Appearance
From TV-Browser Wiki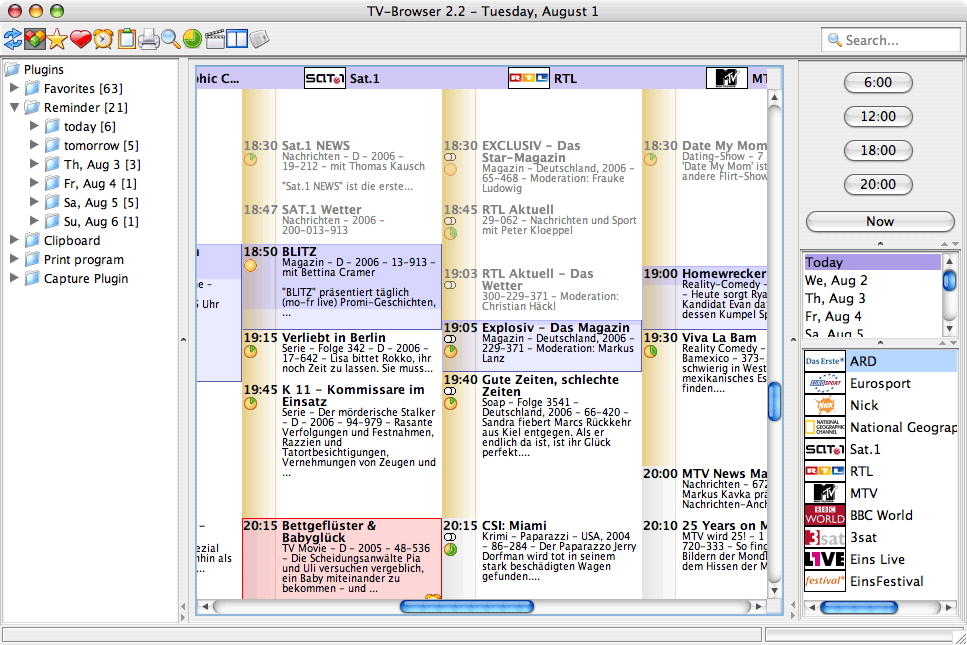 TV-Browser's GUI is seperated in multiple sections.
Program table
In the center of the screen you will find the program table. It lists the TV stations and their shows. Shows that are currently running are highlighted in blue. A darker and a lighter shadow indicate how many percent of the show is already over. The darker section will continue to move downwards as the show is running. A show that has mostly a light shadow has started just recently. If it has mostly dark shadow, then it is going to end soon.
Shows that have already aired are displayed in a gray font and with faded out icons. Shows that are still about to be aired have a black font and normal icons.
Additionally, shows can be marked by plugins. These shows are highlighted in red and have an icon in the bottom right corner for every plugin that marked this show. In the example picture above, the movie Bettgeflüster & Babyglück has been marked by the Reminder plugin.
Further icons may be displayed underneath the starting time (see explanation of symbols). Each plugin can display icons of its own in addition to the default icons. For example, all shows display the pie chart icon provided by the TV Rater plugin. You can choose which icons will be displayed in which order in the settings dialog. If there is not enough space to display all necessary icons, TV Browser will only show as much icons as there is space available, according to the order you selected.
Personas
Mozilla Firefox Persoans are supported since TV-Browser 3.1. TV-Browser is shipped with two own Personas which are randomly choosen each start. If more Personas are installed it will randomly be choosen between all installed Personas. It's also possible to select one Persona that should always be used or to disable Personas completely.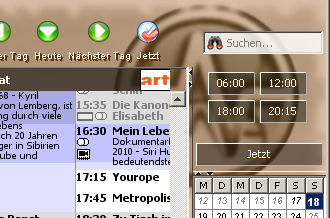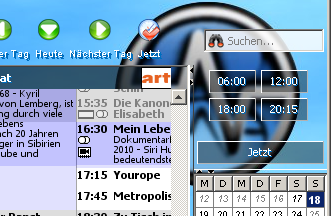 For easy handling and installing of Personas the Plugin PersonaHandler is available.
Plugin overview
In this overview you can easily see which plugins have currently marked which TV shows. Each plugin can control the tree structure in its own way. For example, in capture plugin each capture device has its own branch and in favorite shows plugin it is the same for every of your favorite shows.
This is the ideal place to have a quick look which reminders are currently pending.
The tree is also ideal to create a quick print list. You can click the right mouse button on every folder and export its contents to another plugin, for example the print plugin. This way it is no problem to for example print all reminders for next week or the air times of a particular favorite show.
Toolbar
Just above the program table there is TV Browser's toolbar. It provides the possibility to quickly access all the plugins. It can be configured in the settings - configure toolbar dialog.
Right of the program table you will find buttons with times on them. They allow you to quickly jump to these times of the day.
Day list
Underneath the time buttons you have the possibility to select the day for the program table. Of course you can only select those days for which TV Browser has already downloaded data. For legal reasons, it is unfortunately impossible to go more than one day back "into the past".
Channel list
The last section on the right hand side is the channel list. Here you can quickly jump to a certain station.
Miscellaneous
TV Browser's GUI can be customized in many ways. For example, you may choose to show or hide single elements. Further possibilities of customization are explained under Settings.