Reminder
From TV-Browser Wiki
What is the Reminder?
The Reminder does exactly what its name imposes. It reminds you of shows you would like to watch. Please be aware that it can only remind you, if the TV Browser application is active in the background!
Settings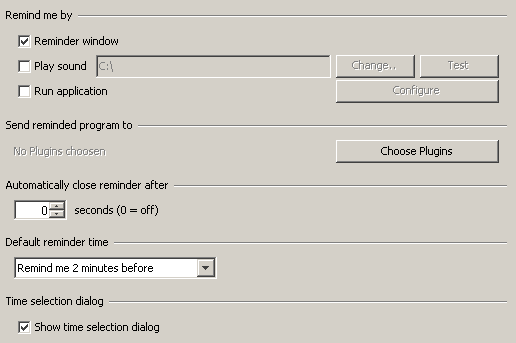 You can choose, how you would like to be reminded.
Reminder window

A dialogue will pop up showing details about the show you wanted to be reminded of.

Play sound

The selected sound will be played. Supported data types are wav, aif, rmf, au and midi.

Run application

An external application will be started using the Parameter System.
It can even be defined that a remembered show will be transferred to a plug-in. To do this, please select the respective plug-ins in the Send reminded program to section.
If you would like to be reminded with a reminder window, you may configure the display time of the dialogue.
You can define a standard time the Reminder will use when creating a new entry.
Please activate Show time selection dialog if you would like to be asked for the time of the reminder each time a new entry is created.
Reminder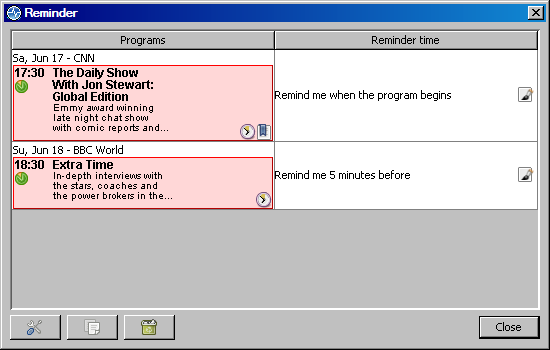 Use the menu Plugins->Edit reminder list... to get to the reminder overview. Here you can select reminders and remove them by clicking the trash can.
You can adjust the reminder time by clicking the edit symbol or by double clicking the cell in the second colum.
To add a show to the list right click its entry in the program table and select "Remind me" in the popup menu.
To export a show to a plugin click the middle button of the three on the bottom left while the show is selected. This way you can easily print all reminders for example. To do that you just export them to the print plugin.
The settings button on the left opens the settings page of the reminder.
Miscellaneous