Settings:Channels
From TV-Browser Wiki
General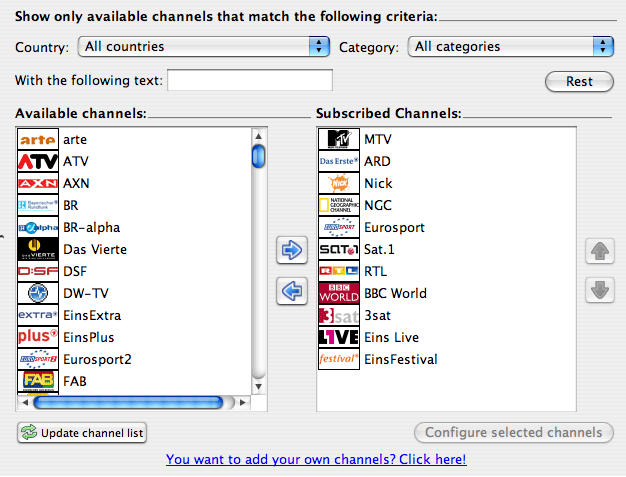 On the left side you can select a channel you want to be displayed by TV-Browser. Simply select a available channel and click on the right-arrow-button to add it to your list of subscribed channels. This channel will now be available in the program table.
Use the up-arrow and down-arrow-button to change the order of the channels. The channel on top of the list appears in the program table as the first (completely left), the bottom channel as the last (completely right).
Alternatively you can use so called Drag'n'Drop to easily change the order with the mouse.
Above the channel list you have the possibility to filter after certain characteristics.
Update channel list
Select "Update channel list" to let TV-Browser search for new channels (an internet connection is necesssary). TV-Browser automaticly searches for new channels regularly. Use this function if the channel list on the left side is empty or when you suspect that new channels are available.
Configure channel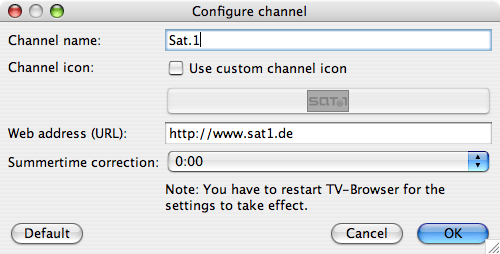 With the "Configure selected channels" button you can change other options for the channel you selected on the right side. The changes you make here will only affect the selected channel.
Other options are:
+/- 1 hour Daylight Saving Time
custom channel name
custom channel icon
custom channel-URL
Add channel
To add more channels you just have to activate more channel groups.
Channels with questionmarks in logo and (N/A) after the name
This are not available channels, more under: Not available channels